Unimaginable Vision
Unimaginable is a three-year generosity initiative that will lead us to pursue Jesus' dream for our church. For over 125 years, God has worked through First Christian both here in our city and around the world. Through Unimaginable, God is calling us to partner with him by investing our time and our resources to greater levels of commitment that will impact Council Bluffs today and for years to come.
Primary Goal
100% Engagement
We want every single person who calls First Christian home to engage in Unimaginable and be willing to take a next step of growth in this area of generosity.
Whether you have never given before, are an infrequent contributor, or are a consistent giver, there is a next step God is asking you to take in this journey.
If 100% of the people at First Christian become fully engaged, we expect to see an increase in generosity like we have never seen before.
Secondary Goal
$1.7 Million
Our secondary goal is monetary. We want to share with you our vision for how God can use this generosity initiative in unimaginable ways.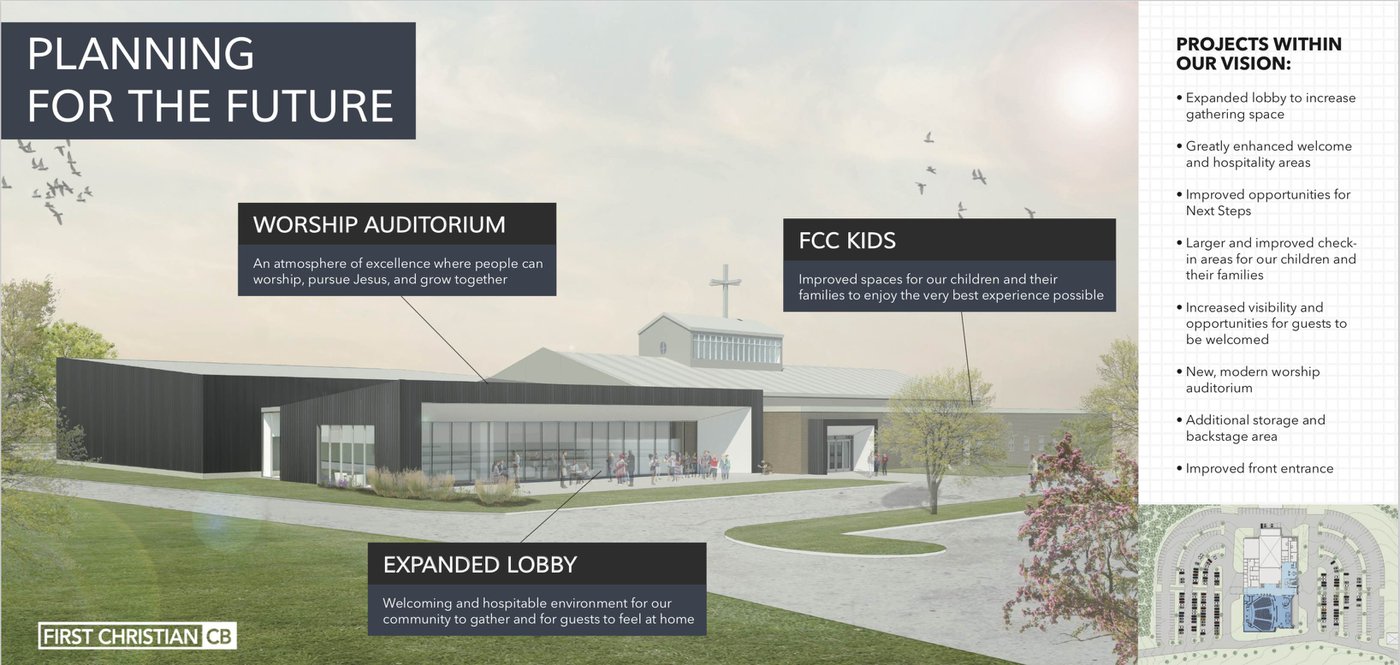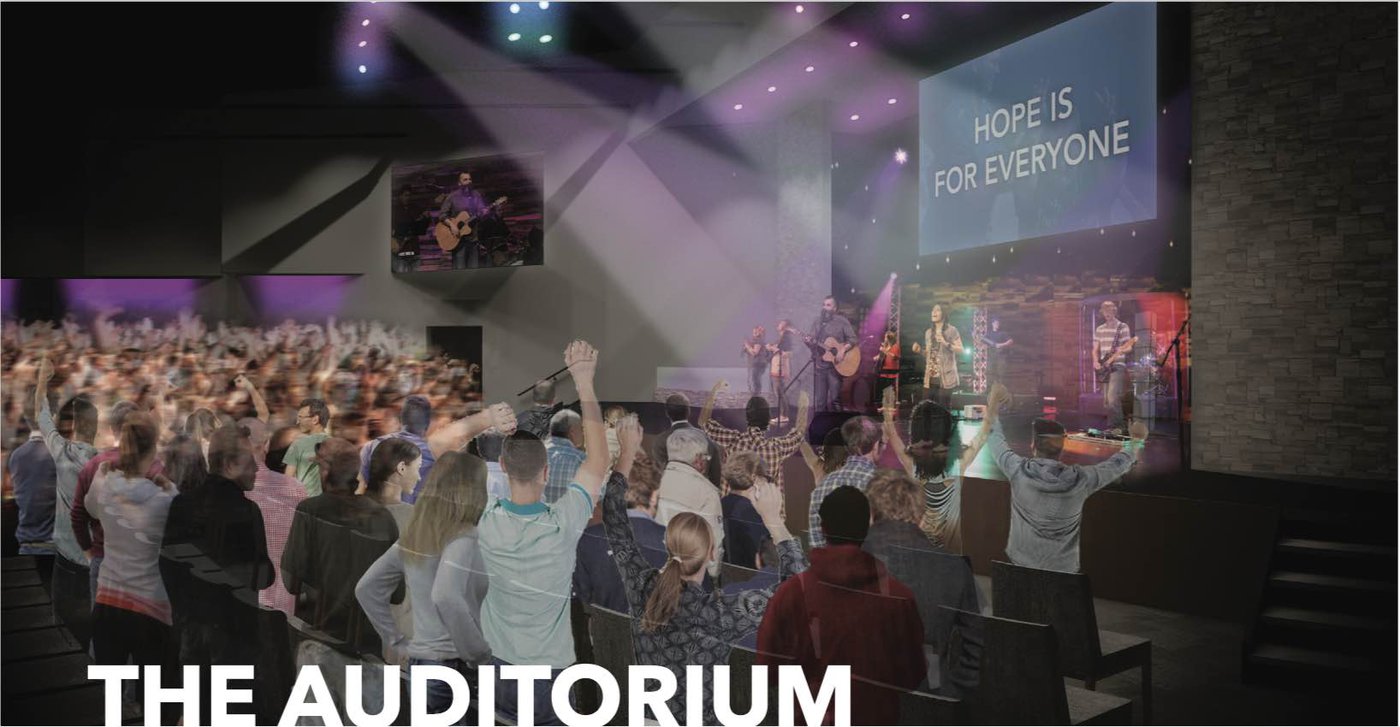 Our mission to help people find their way back to God is central to who we are. We know that if we are to continue experiencing growth during our weekend worship gatherings, we must both expand and maximize our facilities so that more people can gather together to hear God speak through Scripture, express our love for him through song, and be encouraged to live fully for Jesus in our homes, work, and community.
We will build a brand-new 800-seat auditorium that will improve the qualityof our worship gatherings. The space will include fixed stadium seating, a permanent baptismal pool, and quality audio and visual equipment. Wewant to create an excellent environment where the gospel will be preached and God will be worshiped for the next 50 years.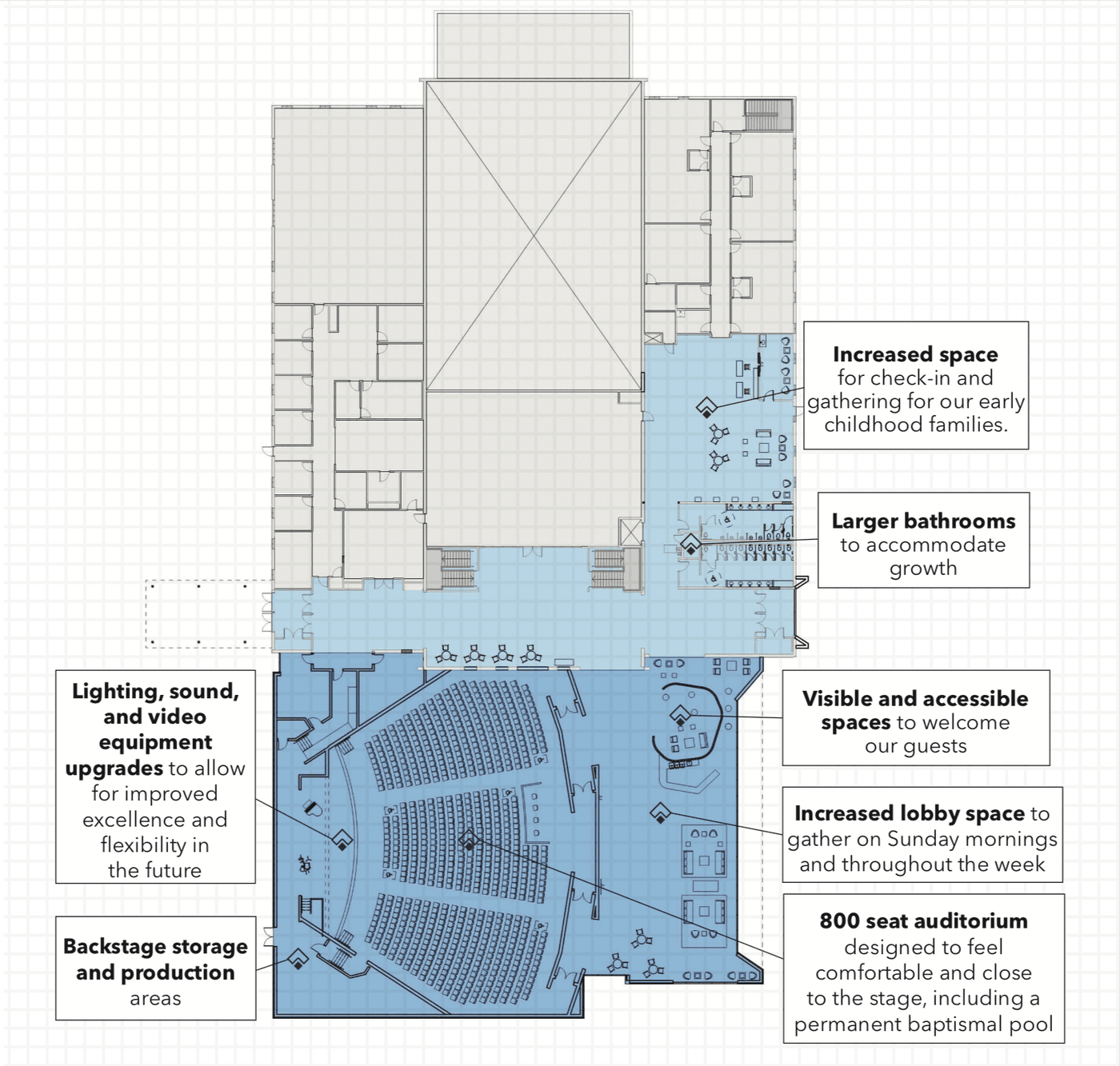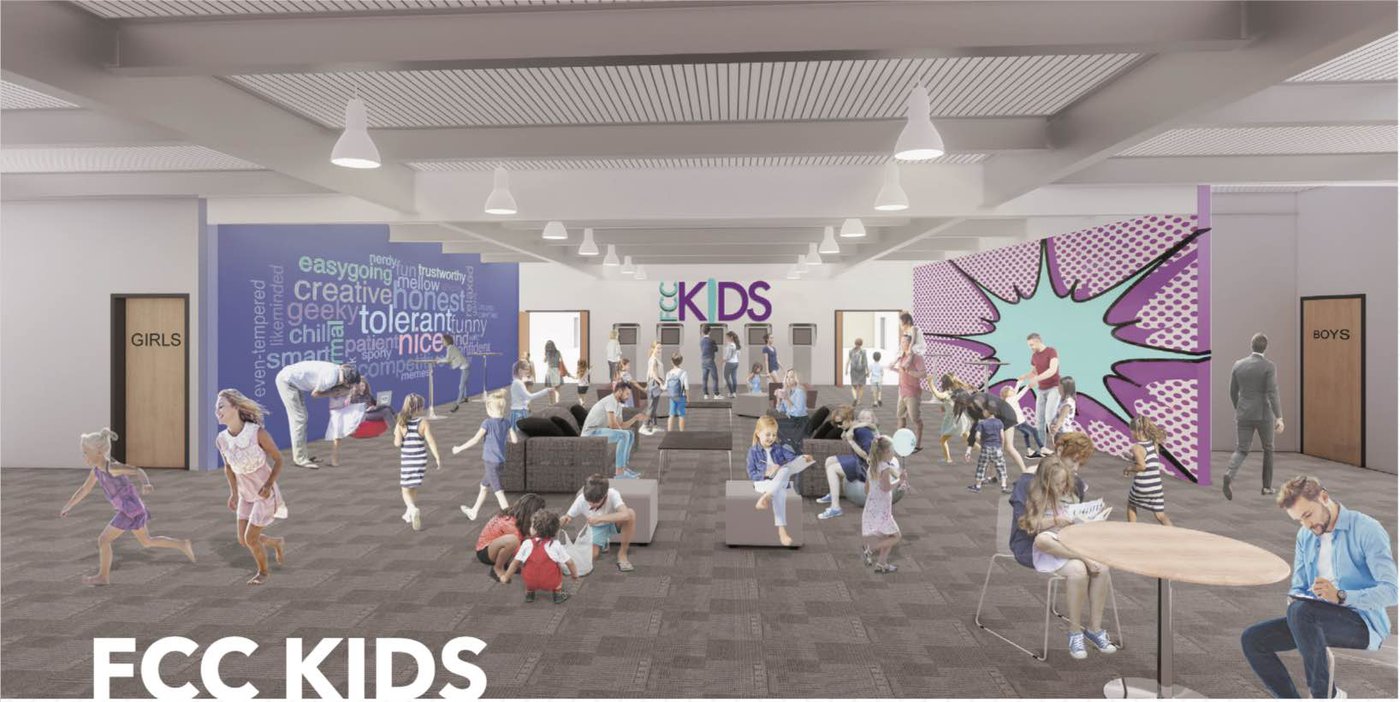 We desire to give our kids the very best experience on Sunday mornings and throughout the week. If we are going to continue loving and leading the youngpeople who walk through our doors, and send them out from this place as world-changers, we must improve the quality and accessibility of our FCC Kids facilities. By doing so, we can lead twice as many young people and families toward Jesus
By renovating part of our existing facility, we will create secure, exciting spaces in which our kids can to come to know and follow Jesus. This will include renovations to our gym, as well as significant improvements to our check-inenvironments. We will be adding gathering spaces for families to relax and engage with one other. We will be able to maintain a secure environment for each child while making it a comfortable experience for every parent.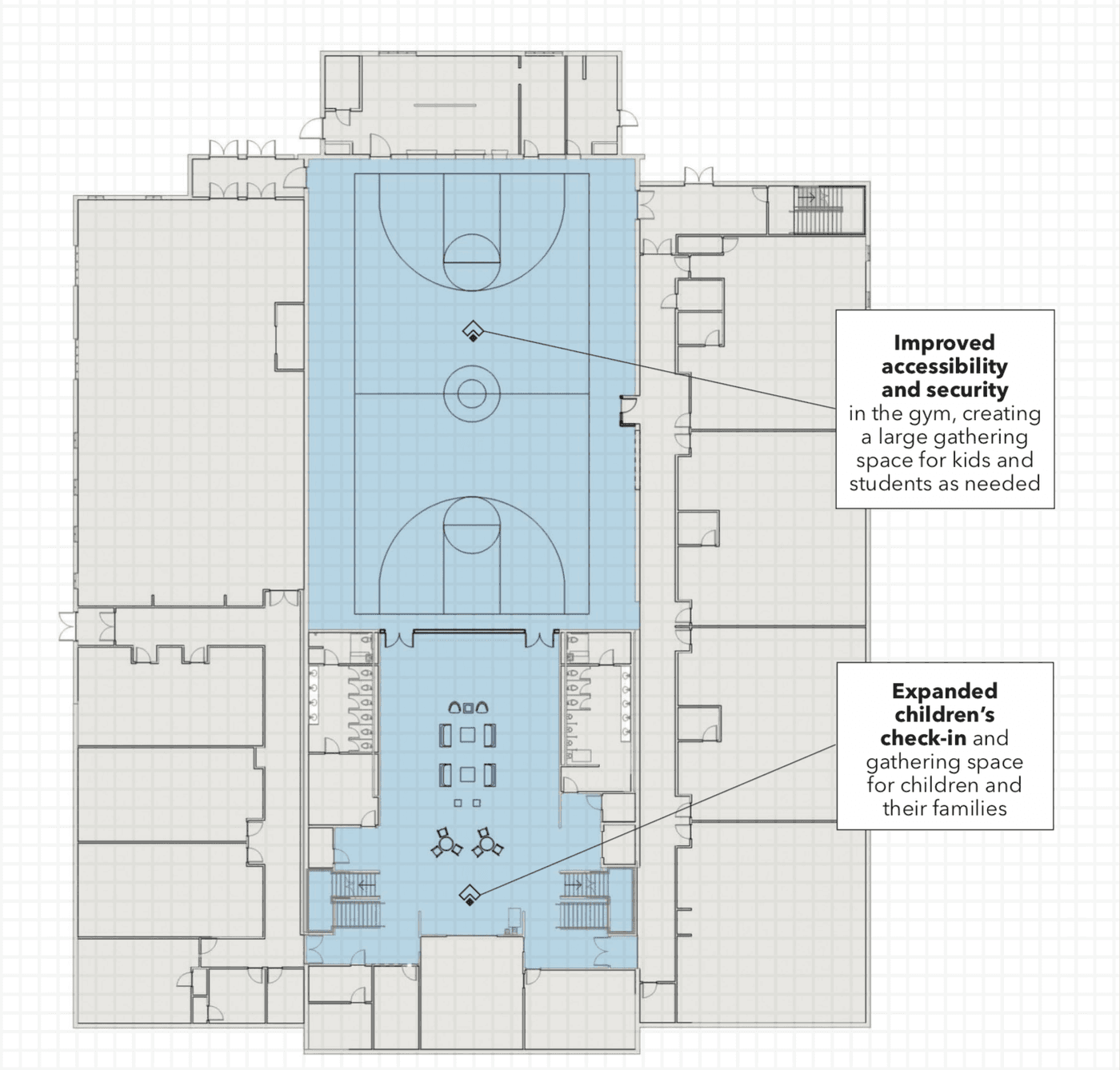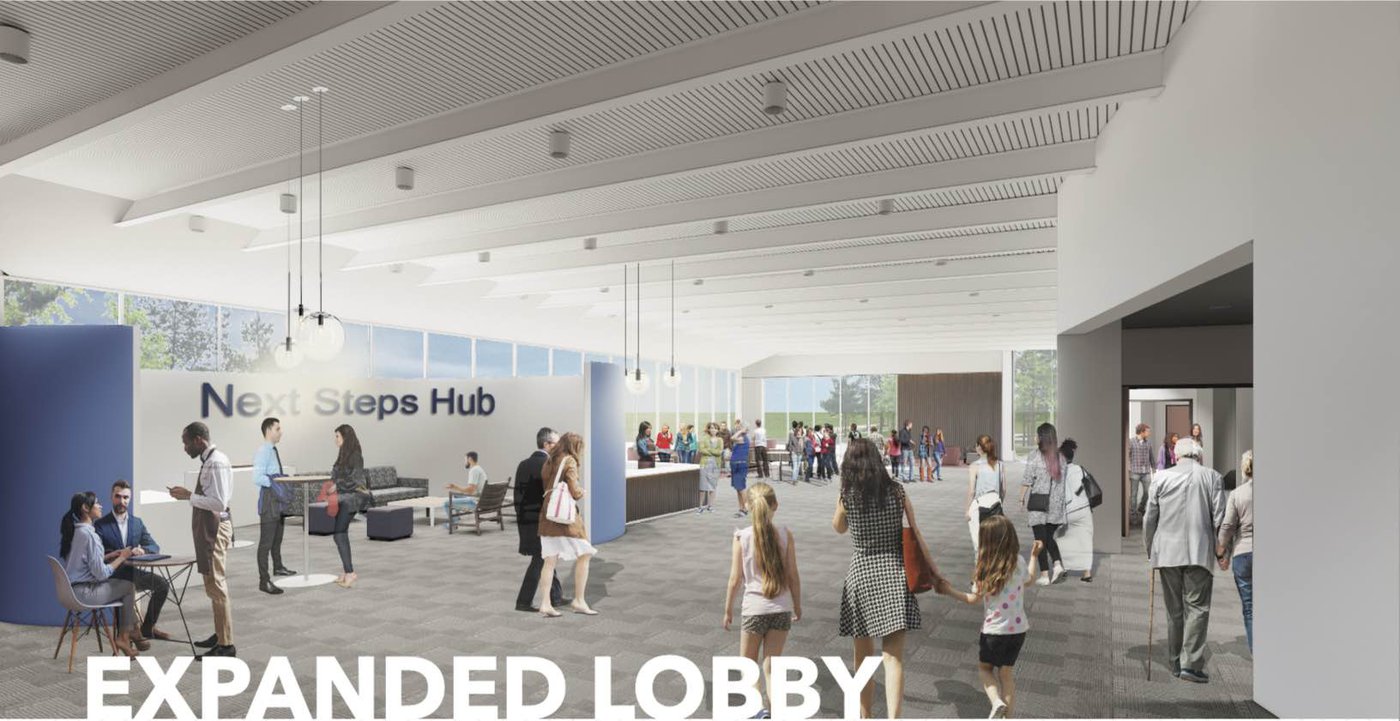 As we continue to welcome hundreds of first-time guests each year, we are aware that their first impression matters. Studies confirm that before a service even begins, many guests decide whether or not they will return based upon the visibility and accessibility of the church facility.
For that reason, we are committed to providing spaces that are inviting to our guests as well as those who call First Christian their home. We will greatly expand our lobby to allow for many more conversations and community moments to happen between our services. We will renovate the area on the east side of the building to make it accessible and welcoming. This will allow us to better care for our guests who are stepping into church for the first time.
How will you respond?
Our primary goal through Unimaginable is that 100% of people who call First Christian home would engage in this initiative to experience a life-changing encounter with God. We are asking you to go on a spiritual journey with God and your family—to take the biggest steps of generosity you've ever taken as we move together to accomplish God's dream for us.
1. PRAY FERVENTLY. Pray that God would multiply our efforts to help people find theirway back to him. Pray that he would do abundantly more than we ask or imagine for his great name.
My prayer for Unimaginable is:
2. GROW INTENTIONALLY. Help us reach our goal of 100% engagement in Unimaginable. Stand side by side with our church family to pursue a vision that is bigger than ourselves. Attend each Sunday from January 27 through February 24. Engage in the Unimaginable study with your Life Group. Learn all you can about God's desire for you and your resources.
3. GIVE GENEROUSLY. Ask God to show you what it looks like to give in a way that changes you. Take whatever steps are required to see it through.